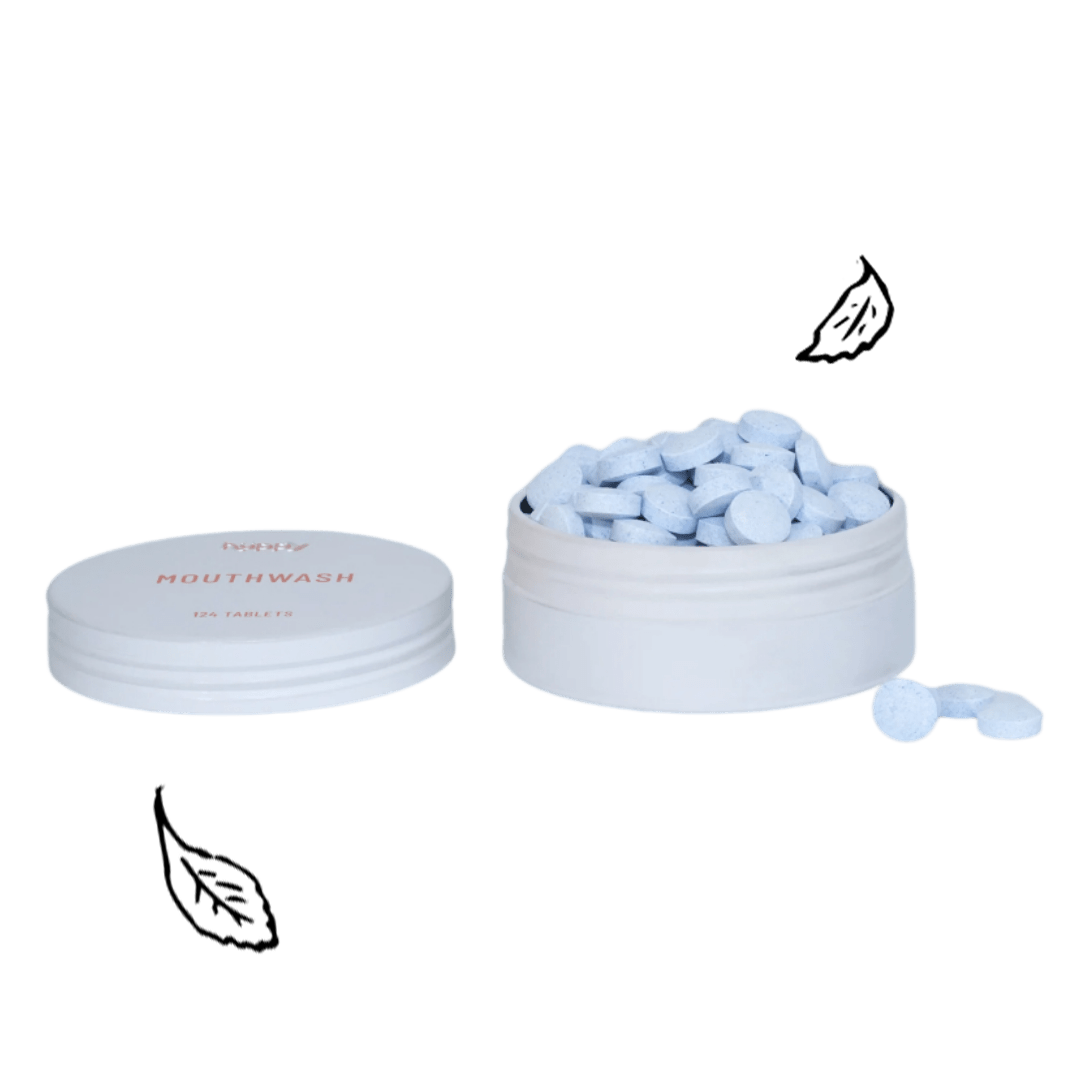 Mouthwash Tablets
Cool Mint
Swish, swoosh, spit—strengthen enamel and freshen breath.
What It Is
How To Use
Ingredients
These mouthwash tablets by Huppy are made from entirely natural ingredients. The fluoride free formula helps to strengthen enamel, maintain good oral health, and freshen your breath. Tea tree and peppermint oil give this mouthwash a deep cleaning and refreshing feel. Add water and swoosh to your heart's content. Available in fresh flavored Cool Mint.
Dissolve 1 tablet in 20 ml of water. Gargle and swoosh for at least 30 seconds. Spit out without rinsing.

124 tablets = 2 months for 1 person, twice a day.
Xylitol (From Birch), Natural Mint Flavor, Hydroxyapatite (Nano), Magnesium Stearate (Vegan & RSPO)†, Mentha Arvensis (Menthol) Crystals, Spiraling Extract, Hydrated Solica, Cocos Nucifera (Coconut) Oil, Calcium Carbonate, Sodium Bicarbonate (Baking Soda), Silicon Dioxide, Mentha Piperita (Peppermint) Oil, Melaleuca Alternifolia (Tea Tree) Oil, Eucalyptus (Globulus) Oil, Mentha (Spearmint) Spicata, Aloe (Vera) Barbadensis Leaf Extract, Zinc Citrate, Ammonium Glycyrrhizate (From Licorice Root).
† Sustainably Sourced (RSPO)
Multipurpose Manifesto
Sorry- no other uses that we can think of. Let us know if you do!
The Breakdown
Paper Box: Repurpose, Recycle Or Compost

Metal Jar + Cap: Refill, Repurpose Or Recycle
Is the Zero Waste Trend Sustainable?
The zero waste movement is hot right now. Google searches for "zero waste" have tripled since 2017 and the hashtag #zerowaste has over 4 million posts on Instagram. So why is our plastic problem getting worse? And why are all the "zero wasters" wealthy white people? We take a hard look at this "trend" to see if it can actually transform into lasting systemic change.
Read the Blog